Aspire Transitional Care, Newest Addition to The Goodman Group Managed Portfolio
Community is 36th Nationwide for The Goodman Group,
National Leader in Managing and Developing Senior Communities
Flagstaff, Ariz. (August 1, 2020) – Aspire Transitional Care (Aspire), located in Flagstaff, Ariz., is proud to announce that they are newly managed by The Goodman Group, a Minnesota based company with over 50 years of experience designing and managing senior living and health care communities, residential communities and commercial properties. Aspire, formally known as Welbrook Transitional Rehabilitation, is a transitional care community with 50 private rooms that offers rehabilitation and wellness services for short-term care.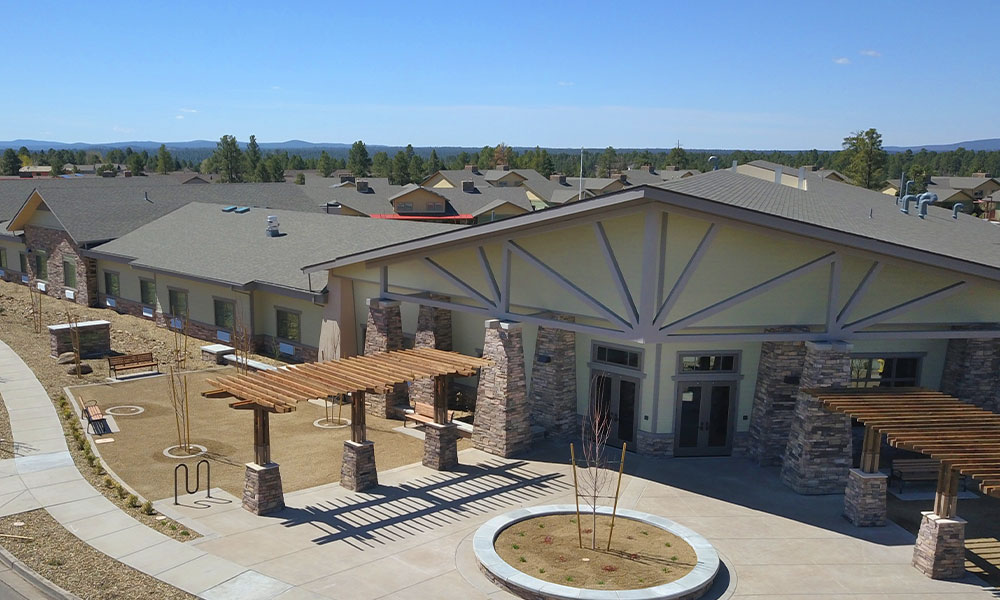 "At Aspire, we want individuals to feel encouraged on their journey to recovery, and Aspire is committed to providing personalized care and service for them during their stay," said Kim Te Brugge, vice president of senior living and health care at The Goodman Group. "We are excited to add Aspire to our managed portfolio and we look forward to welcoming individuals into the community."
Aspire is a very special place for those who seek a calm, healing and supportive environment. We take a person-centric approach to your care, whether it's one-on-one fitness training to restore balance, or chef-inspired meals tailored to stimulate your appetite and health. And, family support is highly encouraged and outreach programs assist in providing the best care for individuals during their stay. The community capabilities include primary care clinician services; skilled nursing services; diagnostic testing coordination; specialty care consultants including podiatry, radiology, and wound care; on-site services include physical, occupational and speech therapy; pharmacy services; and nutritional and diabetic services.
The rehabilitation and wellness services offered at Aspire are designed to help patients return home as soon as possible. Every individual who enters the program receives a customized treatment plan based on their specific medical condition and wellness goals. Team members carefully measure progress at regular intervals and make adjustments to promote improvement in physical strength, health and endurance.
Aspire Transitional Care is an affiliate of The Peaks, A Senior Living Community and The Peaks Health & Rehabilitation (collectively, The Peaks). Together, these three communities offer bungalow living, independent living, assisted living, memory care, long-term care, rehabilitation and now transitional care. In addition to Aspire Transitional Care, and The Peaks, The Goodman Group manages Scottsdale Park Suites in Scottsdale, Ariz.; Emerald Springs Senior Living in Yuma, Ariz.; and Ridges at Peoria Senior Living in Peoria, Ariz. The Goodman Group is grateful to be expanding in the Flagstaff community and looks forward to helping individuals on their senior living or health care journey.
---